What's that saying?  The apple doesn't fall far from the tree…  Well, in the best sense of that phrase, we have Folk Uke, made up of Amy Nelson and Cathy Guthrie.  Not every child of famous musicians feels the itch to make music, of course, but I'm glad these two women did.  They say this about their career decision.
We were inspired by many of the agreeable greats of the Folk, Country, and Americana genres. Our favorite chords are C, F, and G. So, if you'd like to play along, well, it's that easy. Of our infamous families, the two of us had been the musical holdouts until we gave into the force and began writing and playing music together. Armed with a ukulele and a guitar, we penned songs such as 'Shit Makes the Flowers Grow', 'Knock Me Up', and 'Motherf**r Got F**d Up' and we thought, "What a crime it would be to keep these national treasures to ourselves. How can we keep silent when we are the voice of a nation?"

– Cathy Guthrie and Amy Nelson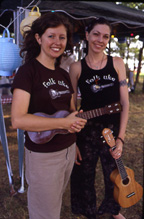 I got to hear them at Willie Nelson's Fourth of July Picnic last year, and they were entertaining, funny, irrelevant, very talented musicians.   It was a special treat when Willie joined them, along with Bee Spears, who played his stand-up acoustic bass.
www.clubluck.willienelson.com posted these upcoming shows for Folk Uke:
7/14/2007 Brickstreet Cafe, Okemah, OK, for Woodyfest (http://www.woodyguthrie.com)
7/18/2007Â Saxon Pub, Austin, Tx (with sister Paula Nelson, Pauline Reese, and others (http://www.thesaxonpub.com)
7/21/2007Â  Buddies II, Dallas, TX (http://www.buddiesii.com)
 

You can buy their cd, tee-shirts, and this great bumper sticker at their website www.folkuke.com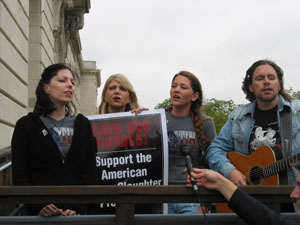 (Amy Nelson, Paula Nelson, Raelyn Nelson Sweeney, Johnny Iron) Sisters Amy and Paula inherited a sense of moral consciousness, as well as their musical talents, and continue the family tradition of supporting worthwhile causes.  Here, they join Raelyn Nelson Sweeney and Johnny Iron in Washington D.C. last September, in support of the American Horse Slaughter Prevention Act against the slaughter of horses.  To learn more about this important issue, also supported by Willie Nelson, at http://www.saplonline.org/horses.htm.