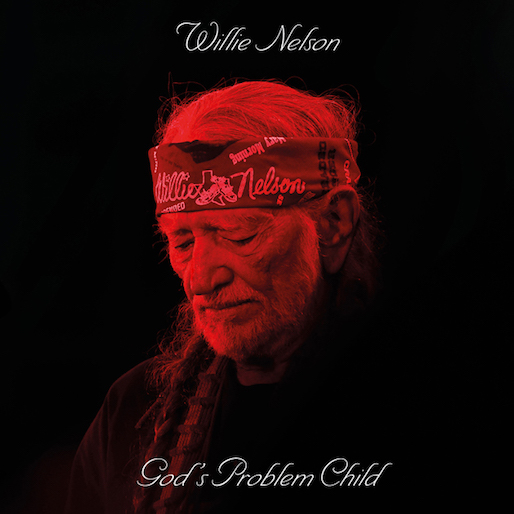 www.PasteMagazine.com
by:  Holly Gleason
In a youth-obsessed world, God's Problem Child flies in convention's face. On the languishing title track, penned by Jamey Johnson and swamp rocker Tony Joe White, Willie Nelson enlists the song's co-writers and Leon Russell to consider living on one's own time and terms. Inhabiting the song as wizened elders who've stripped off false standards to find peace and redemption, they sound ragged and resolved as an acoustic blues guitar wrestles the melody on the bridge and Mickey Raphael's harmonica rises like so much heat.
Turning 84 on April 29, Willie Nelson—like Tony Bennett—is one of pop culture's few reining icons who remain creatively engaged. Beating Streisand for 2017's Best Traditional Pop Vocal Album Grammy for Summertime: Willie Nelson Sings Gershwin, the red headed stranger returns to more familiar territory on GPC. A consideration of aging, loss and engaging the world from that lived in perspective, it feels like Nelson's personal state of the union.
Sifting the seeds and stems of lost love, disappointment and mortality, Nelson's slightly out of time, note-stretching voice is porous, yet strong on the somber "True Love." Belying the saccharine title, the spare arrangement moves beneath his clear-eyed assessment of how hard, yet wonderful, love is.
That theme also permeates the Spanish-leaning "A Woman's Love," slightly noir and fairly erotic, and the more straightforward country lope "Your Memory Has A Mind of Its Own." For Nelson, romantic love remains the most powerful and elusive aspect of life no matter the age.
That honesty gives God's Problem Child heft. Writing seven of the 13 songs with producer Buddy Cannon, known for his work from Vern Gosdin's seminal Chiseled in Stone to Alison Krauss' brand new Windy City, and curating the rest from friends, the cohesion suggests Nelson is clear-eyed about his place along this mortal coil. The largely gut string guitar, accordion and steel-drenched "It Gets Easier" is sublime straight country that seems an almost perfect wedding song. Perfect, until a closer listen reveals the superstar telling people "but not today."
Inspired partially by Merle Haggard's death, memorialized through Gary Nicholson's "He Won't Ever Be Gone" which considers Hag's workingman's truth, these dead-eye assessments of life near its end cut to the quick. Kris Kristofferson vet Donnie Fritts and Lenny LeBlanc provide an over-the-shoulder assessment on the lean "Old Timer," while the jaunty mid-80s's retro country "Little House on the Hill" provides a white picket fence bit of nostalgia from Cannon's 92-year old mother Lyndel Rhodes.
All is not dour. The man who's teamed with Snoop Dogg for "Roll Me Up and Smoke Me When I Die" takes on political science and post-election peace of mind with "Delete and Fast Forward." But the train-boogie, harmonica blast riveted "Still Not Dead" lets Nelson's wit run free. Flicking off his advanced age and specific death hoax stories, Nelson sings, "The internet said I had passed away/If I died, I wasn't dead to stay," admonishing "the gardener didn't find me that-a way" and urging, "please don't bury me, I've got a show to play."
Nelson lives to play. Until he's called home, it's a safe bet the music is going to keep coming. If it's the quality of God's Problem Child, it will be as vital as anything he's done.