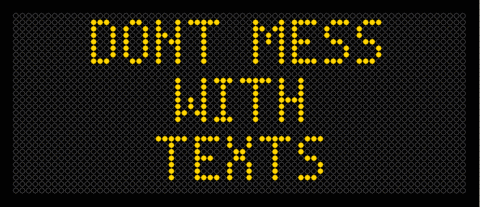 www.citylab.com
Drivers in Austin should be forgiven if they think Willie Nelson has been moonlighting on a highway crew. Messages on electronic traffic signs will soon broadcast country-and-western-themed alerts, such as "SAFETY IS 'ALWAYS ON MY MIND' / SHARE THE ROAD" and "ROAD CONSTRUCTION AHEAD / PLEASE DRIVE WILLIE SLOW."
The whimsical messages are part of a new safety campaign from the Austin Transportation Department, which in January asked people to submit short poems about driving sober, not texting, and being aware of traffic conditions and construction crews. More than 300 responded, and this week the department announced 15 winners who'll have their messages blinking on the city's dynamic-message signs later this year. Aside from the odes to the local music legend who's perennially on the road again, there are shout-outs to state pride ("DON'T MESS WITH TEXTS"), regional cinema history ("DAZED AND CONFUSED? / STOP STARING AT YOUR CELL PHONE"), and bull-riding idioms/country crooner Vern Gosdin hits ("THIS AIN'T YOUR FIRST RODEO / SO BUCKLE UP!").
This kind of officially sanctioned silliness follows similar campaigns employing large signs on state highway systems. "There are several state departments of transportation that have used lighter, humorous, impactful messaging to engage roadway users—for example, the Arizona DOT, Iowa DOT, and Massachusetts DOT," the latter which also played with local flavor, says Jorge Riveros, division manager at the Austin Transportation Department.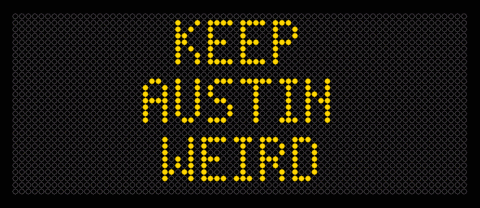 Austin hopes that placing such a campaign in the more unusual setting of a municipality—and referencing regional language and lore—will draw more eyes to safety concerns. The city needs all the help it can get on this front: Traffic deaths have been rising over the years, leading to a record number of 102 people being killed in crashes in 2015, a jump of 62 percent from 2014. Though the toll was slightly less grim in 2016, Austin wants to head off future surges in road fatalities, planning redesigns for historically dangerous intersections and adopting its first Vision Zero action plan last spring with the goal of rubbing out traffic deaths and major injuries by 2025.
"Overall, this campaign felt like it could deliver a fresh take, and specifically shake up some of the operational messages that Austin travelers might have been accustomed to seeing," says Riveros. "Injecting some levity may get roadway users to think about some of the safety and operational choices that they are making, and if we can make the roadways safer in Austin, then we as an organization can say that we are getting closer to doing our job to keep all users safe at all times."
Marissa Monroy, the transportation department's public information and marketing manager, says that the contest also revealed the kinds of things Austin drivers are most concerned about: "Popular messages included using your blinker, putting away your cell phones, not drinking and driving, sharing the road with cyclists and pedestrians, being cautious around road work, not 'blocking the box,' not littering, always wearing a seat belt—and just being nice to each other."
For those curious about the jokey alerts that didn't make the cut, there are a few good ones, including "Buckle up buttercup," "Use shoulder only in queso emergency," "Your seat has an 'eject' button/It's called not wearing your seat belt," and "If you can read this, slow down so you don't hit the person in front of you reading this."