www.FarmAid.org
For all of us at Farm Aid, last month's festival was an energizing celebration of music and food in support of family farmers. Whether you were there with us in Raleigh or took part at home, we hope it was a meaningful day that reminded you of what farmers do for all of us, from providing us with good food to growing solutions for climate change.
Today, we're looking back at Farm Aid 2022 to share experiences of fans in the crowd and people working backstage.
13
Incredible performances on the Farm Aid stage. You can relive your favorites with photos and videos right here.
The lawn at Farm Aid 2022. Photo © Scott Streble
18,349
Festivalgoers joined us at Coastal Credit Union Music Park at Walnut Creek in Raleigh, North Carolina. (Not all of them messed up the lyrics during the sing-along for John Mellencamp's "Jack and Diane," but most of them did!)
Triangle Land Conservancy at Farm Aid 2022. Photo © Scott Streble
33
Local and national organizations participated in our HOMEGROWN Village, with exhibits focused on solutions that family farm agriculture can have on climate change.
The Seed Swap at Farm Aid 2022. Photo © Lise Metzger
6
HOMEGROWN Skills demonstrations that encouraged festivalgoers to dig in by learning how to harvest food in their backyards, growing mushrooms, saving seeds and more. Learning materials and how-tos are available here.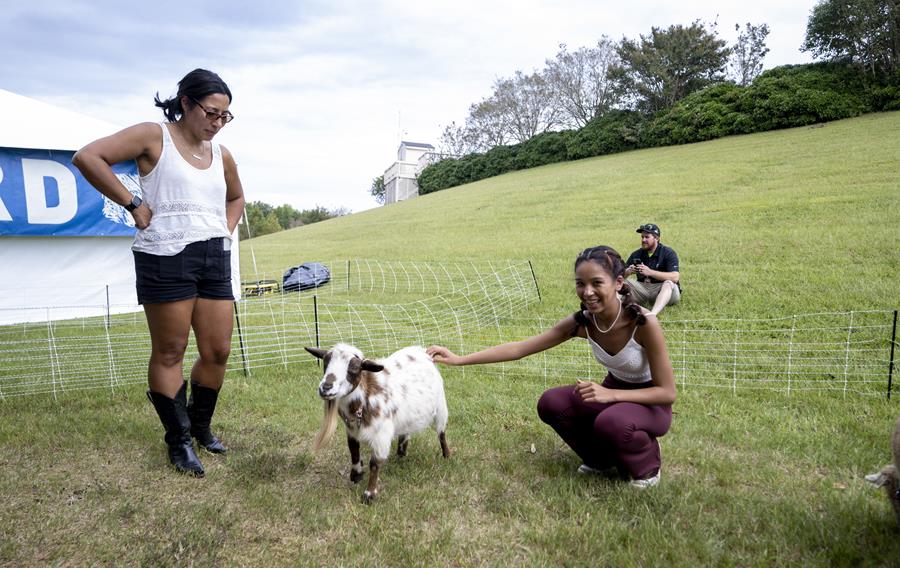 Young woman meeting a goat at Farm Aid 2022. Photo © Scott Streble
Millions
Approximate number of pets and snuggles festivalgoers gave to the amazingly cute heritage breed animals in the HOMEGROWN Mini-Farm.
Catering volunteers. Photo © Scott Streble
7,601
Pounds of food donated to local food rescue organizations from HOMEGROWN Concessions® and catering to reduce waste and feed the community.
4
Areas to get temporary farm-related tattoos in the HOMEGROWN Village. (As far as we know, no permanent tattoos were inked at the festival.)
Volunteers at Farm Aid 2022. Photo © Scott Streble
360
Volunteers helped make Farm Aid 2022 possible. Thank you! ??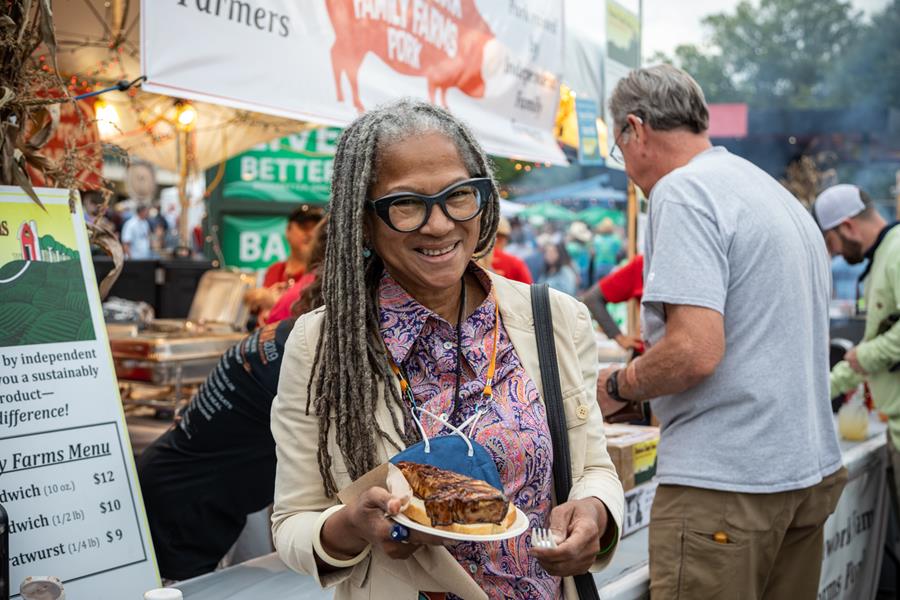 Festivalgoer Savi Horne, an incredible North Carolina farm advocate, enjoys a pork chop from Patchwork Family Farms at Farm Aid 2022. Photo © Lise Metzger
60
Menu items in HOMEGROWN Concessions® enjoyed by fans throughout the venue. Nine menu items featured North Carolina-pastured pork. All the ingredients were grown with sustainable practices, sourced from family farms, and a fair price was paid to the farmers.
Compost Your Scraps table. Photo © Alexandria Ward
9,842
Pounds of food waste and compostable products were collected and composted by our Green Team volunteers and diverted from the landfill.
A HOMEGROWN Youthmarket table. Photo © Scott Streble
2
HOMEGROWN Youthmarkets, staffed by local young people, sold fresh fruit and nuts to festivalgoers.
Thomas Savage of Allied Organic Farms leading a tour that took place the day before Farm Aid 2022. Photo © Lise Metzger
145
People took part in our pre-festival events focused on, "Equity, Climate, Ag and The Way Forward." Five farms were visited on our farm tours, and one documentary film called The Smell of Money was screened.
HeadCount at Farm Aid 2022. Photo © Scott Streble
Dozens
Of people registered to vote or verified their voter status with our partners from HeadCount to participate in this year's election.
357
Media stories about Farm Aid 2022 in outlets like Billboard, Rolling Stone, Raleigh News & Observer and more the week of September 24 and in the weeks since.
Thank you for celebrating family farmers with us this year. Make sure to wear your support of family farmers year-round by purchasing Farm Aid 2022 merch.
And stay tuned to our YouTube channel for more music and videos; we have more coming soon!