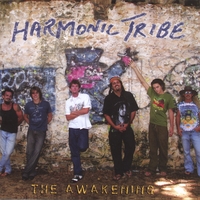 When I first learned that these guys just got together in 2004, I frankly did not believe it.  I got to see them play at Wille's picnic in Ft. Worth the past couple of years, and each time was just blown away.  I remember thinking how tight they sounded, and then to learn they had just formed their band that year — I was impressed. 
I have had the opportunity to see Willie's boys Lukas and Micah play with their dad quite a few times.  It seemed like all of a sudden there they were, touring with their dad, in the summer usually, when school was out. Lukas on blues guitar gave me goosebumps when he and Willie played with Trigger on, "It's Flooding Down in Texas," or "Texas Flood," whatever it's called.
In 2004 when the boys showed up with their own band at the Picnic a couple years ago, the fans were excited!  (And it was like they had instant groupies, too, young girls who had never heard of them before that weekend were crazy about them.)  Wille joined them for the entire set, too, and that was such a treat.  One of the nicest things about the picnic, of course, is seeing Willie play with all these other artists.
The boys have changed their name a couple time; at their first picnic they were the Los Maui Boys, which seems appropriate, being from the Islands.  But maybe it was too close to the Los Lonely Boys, and maybe there they were playing the same show together one time, and is just hit them.  I don't know, I'm rambling.  But now they go by Harmonic Tribe. 
Their sound is very unique, a combination of genres, which might come from living on Maui, or from having a dad who plays everything, and plays it well.  They have a bluesy/rock/reggae/funk/latin sound going, and it really works!   
In addition to Lukas Nelson on lead guitar, Micah Nelson, drums, Andrew Kloppel on Bass, Donny Smith on guitar, Tato Melgar on Percussion,and Veteran Reggae artist Marty Dread on Lead Vocals.
The band has already opened for Willie, UB40, Jack Johnson, The Doobie Brothers, Bob Dylan, Los Lonely Boys and more.  They recorded a song for the "Dukes of Hazzard 2" movie, which is also the title song on their cd:  The Awakening.
If you visit their myspace account, you can hear this song, and others from the album.  Looking at the song list, I recognize the songs, and realize they sang these songs at the picnics.    Awakening is hauntingly beauiful, and Willie is on that tract too, so Bonus!  You can buy their cd online at www.cdbaby.com, for only $14.00 a realy bonus.  There is probably a place to buy it and down load it to your ipod, but I don't know about that.  They probably give that information at their myspace.  I don't have this album yet, but I am going to, soon.
For more information about the band, tour information, etc., visit their myspace at www.myspace.com/harmonictribe  for updates , bio, photos and more.   And to buy the album, go to cdbaby.com, and search for them under harmonictribe.  You are in for a treat.